Christie Purifoy invites us to join God in cultivating places of beauty and peace.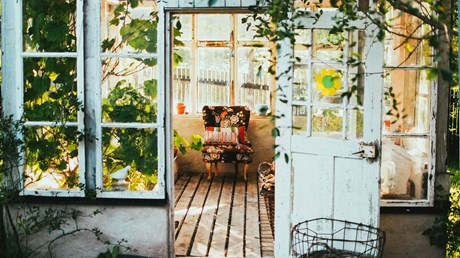 For years, my friend Kristin privately prayed for a garden with "one towering oak tree," where she and her husband might create a place for others to rest and retreat. When they recently purchased a home in their native Southern California, the land surrounding it surpassed her own secret desires. Their new home sits on acres of land with lush succulent gardens and is lined with over a dozen mature oak trees. Kristin and her husband envision a property where they might raise their family, but they also want to create space for pastors and writers to connect with God beneath the shelter of thick branches and green leaves. They hope to build a legacy on the land and become rooted as wide and deep as the towering oaks that surround them.
When I heard their story, my first instinct was to reach into my bag and press the book I'd been reading into Kristin's hands. I resisted only because my copy of Christie Purifoy's book, Placemaker: Cultivating Places of Comfort, Beauty, and Peace, was already covered in inky scribbles. I'd underlined and starred far too many passages (and taken far too many notes) to make this gift a welcome one.
In Placemaker, Purifoy explores themes of rootedness and belonging and, as the title suggests, she writes of cultivating places of rest and retreat, of spaciousness and peace. She also muses on the secret life of trees. "A longing fulfilled is a tree of life" Purifoy writes, and Kristin's new home with its towering oaks comes to mind.
Casting Seeds of Love
Each chapter of Placemaker is named for a wood or a specific tree: Saucer Magnolia, Silver Maple, Penn's Woods, Pine Tree, and so on. "What is placemaking?" she writes. "It …

Source: Christianity Today Magazine