Seated at the right hand of God, what's Jesus doing up there?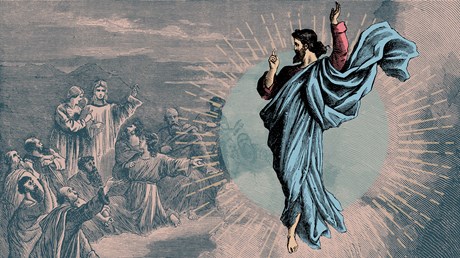 Fellow church members occasionally ask: "If all our sin was dealt with when Jesus died on the cross, why must we still confess it?"
The answer is partly found in an oft overlooked aspect of Christian belief—Jesus' ascension. According to the New Testament, God raised Jesus from the dead, and then, 40 days later, took him up into heaven (Acts 1:9–11). Romans, Hebrews, and 1 John all describe the ascended Jesus actively working for his people in God's heavenly presence. Romans 8:34 and Hebrews 7:25 identify Jesus' present activity as intercession. In 1 John 2:1–2, Jesus serves as an advocate before the Father.
But why do God's people need an advocate? Is the Crucifixion not enough for our salvation? I would answer no. The single event of the Cross is not sufficient—only the person of Jesus is sufficient. If all we had were the Cross, then we'd have no salvation. As important as Jesus' death is, Christ's saving work involves more. We need Jesus' ongoing ministry of intercession for our salvation. Hebrews identifies Jesus' ongoing intercession as key for Jesus "to save completely those who come to God through him" (Heb. 7:25). To reduce Jesus' saving work merely to his dying ignores this important aspect of Jesus' present ministry for his people.
Salvation isn't accomplished just because Jesus died but because he was also raised and ascended into heaven. There, continuously interceding for us, Jesus maintains the New Covenant better (permanently better) than the Old Testament sacrifices and priests maintained the old. Hebrews and 1 John describe Christ's heavenly ministry using concepts drawn from Old Testament …

Source: Christianity Today Magazine
Facebook Comments