The Evangelical Fellowship of India documents 300-plus cases of Christian persecution by Hindu nationalists each year. Muslims have it even worse.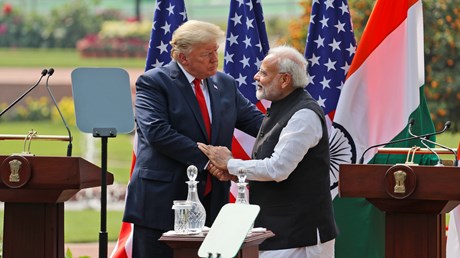 Aside from some mispronunciations that sparked memes, President Donald Trump's visit to India this week went mostly as scripted. The entire trip was high on optics—a spectacle of bromance between him and Prime Minister Narendra Modi—but delivered little of substance apart from some modest deals on defense, energy, and telecommunications.
However, this was quickly displaced from the headlines by another happening in Delhi while the US president was still in India's capital.
On February 23, the first day of Trump's visit to the subcontinent, clashes broke out in Delhi after Kapil Mishra, a leader from Modi's ruling Bharatiya Janata Party (BJP), gave an ultimatum to the megacity's police, in the presence of a senior police officer, to clear anti-Citizenship Amendment Act (CAA) protesters from the Jaffrabad area of the capital within three days.
The CAA is a controversial act recently passed by the Modi government that links citizenship to religion in India and actively discriminates against Muslims. When combined with the proposed National Register of Citizens (NRC) and an updated National Population Register (NPR), it will likely have an adverse impact on many citizens of India but mainly Muslims, who are the nation's largest minority. Many could be deprived of citizenship. Social activists and commentators have called on the government to withdraw the legislation.
Hundreds of protests have erupted across the country, with some crowds reaching the hundreds of thousands. The Shaheen Bagh neighborhood in New Delhi is a symbolic epicenter of sorts of these protests, where mainly Muslim women have been leading demonstrations for three months. Jaffrabad, where Mishra gave the ultimatum …

Source: Christianity Today Magazine
Facebook Comments