But few Brits pray for Brexit or #PrayFor hashtag campaigns.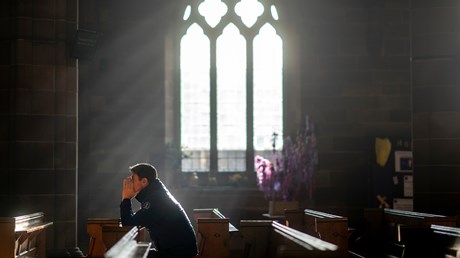 The Bible repeatedly instructs on the value of regular prayer. "Pray continually," Paul says in 1 Thessalonians 5:17. Pray "in every situation," he advises the church in Philippi. And to the church in Colossi he says, "Devote yourselves to prayer" (Col. 4:2).
The message is largely lost in Great Britain, however, where nearly three in five adults (57%) now say they never pray, up from 49 percent in 2017.
According to a new Savanta ComRes survey sponsored by Premier Christian News, 12 percent of British adults say they pray at least once a day. In contrast, a Pew Research Center survey last year found that 49 percent of Americans say they pray every day.
"It's not particularly surprising to see less and less people are choosing to pray regularly," said Marcus Jones, head of Premier Christian News. "What is interesting is despite many having big concerns about the future of our country and our world, people aren't choosing to respond in prayer."
Global phenomena like secularization, immigration, and technological development are overhauling the church in the UK. CT reported in 2016 that for every London-based Anglican church that closed its doors since 2010, more than three Pentecostal churches launched. Likewise, while many British churches are struggling to retain members, churches with strong bases of African and Asian immigrant believers are going strong.
As the demography of faith changes, prayer trends are changing too.
For instance, whereas in the United States, urban centers are sometimes thought to be the heart of rising secularism, prayer is more prominent in Great Britain's cities. Londoners are significantly more likely to pray regularly than …

Source: Christianity Today Magazine
Facebook Comments