What C. S. Lewis's senior devil would recommend in response to COVID-19.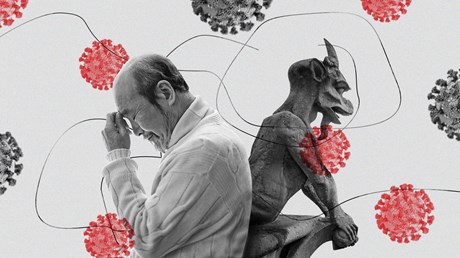 What you should do is imagine all the bad things that could happen. Picture each awful possibility as you lay awake at 3 a.m., letting image after image flood your mind. Think about how you would bear it if you were sick from the coronavirus, or if COVID-19 struck someone you loved.
That's what Screwtape would advise. A lot of people are looking for practical counsel at the present and one excellent resource is a series of letters written by Screwtape and published by C. S. Lewis. Of course the venerable uncle from the underworld and the author of The Screwtape Letters (which fell into Lewis's hands sometime during the relentless Nazi bombing of London in 1940-1941), does not speak to our situation specifically. Screwtape said nothing about the coronavirus in his advice to his nephew Wormwood, a junior devil tasked with temping one particular human in the World War II era. Nevertheless, there is much to learn from the senior devil, and the lessons can be applied to our present situation.
For example, Screwtape has suggestions for what we might think about when we're lying awake in bed at night. He tells Wormwood to encourage the human's mind to run. "We want him to be in the maximum uncertainty, so that his mind will be filled with contradictory pictures of the future, every one of which arouses hope or fear." Humans love to have "courage." They like to imagine how they would "be strong" and exert control over the universe in lots of different hypothetical futures. "Let him forget," Screwtape writes, "that, since they are incompatible, they cannot all happen to him, and let him try to practice fortitude and patience to them all in advance."

Source: Christianity Today Magazine