The more often people go, the more likely they are to invite someone to come along.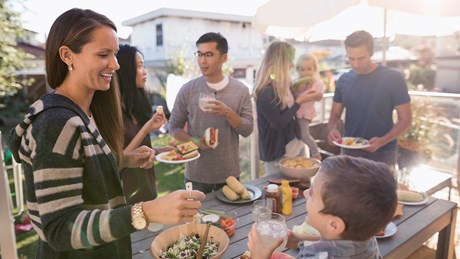 America's Protestants like to invite their friends to church.
At least once in a while.
Nearly two-thirds of Protestant churchgoers say they've invited at least one person to visit their church in the past six months, according to a new report from Nashville-based LifeWay Research.
"It's a fairly easy thing for churchgoers to do," said Scott McConnell, executive director of LifeWay Research. "In any six-month stretch, there are major Christian holidays and often other special events that are perfect occasions for churchgoers to invite friends and acquaintances."
Church invitations fairly common
For the study, LifeWay Research surveyed 1,010 Americans who attend a Protestant or nondenominational church at least once a month.
Churchgoers were asked how often they'd invited an individual or a family to attend a worship service with them at their church in the last six months. They could include repeated invitations to the same people. Invitations counted even if they were turned down.
Seventeen percent say they extended an invitation. Twenty-one percent extended two invitations, while 25 percent extended three or more. Nine percent say they don't know how many invitations they extended.
Three out of 10 say they didn't invite anyone (29%).
"That's a pretty substantial number," said McConnell. "For a number of churchgoers, inviting people to church isn't on their radar."
Church invitations are harder to come by in some parts of the country. Forty-two percent of churchgoers in the Northeast say they hadn't invited anyone, while 37 percent of Midwesterners skipped the invitations. By contrast, only 24 percent of Southerners and 26 percent …

Source: Christianity Today Magazine
Facebook Comments