VeggieTales is back, with an emphasis on the New Testament and biblical story.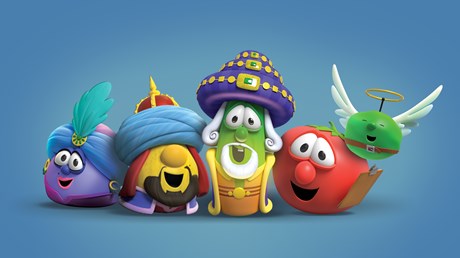 Many evangelical children of the 1990s, raised on the catchy songs of Larry the Cucumber and the thoughtful lessons of Bob the Tomato, are now raising children of their own. In October, that new generation will have a fresh slew of VeggieTales adventures as the animated series returns through a partnership between Trinity Broadcasting Network (TBN), Big Ideas Content Group, and NBCUniversal.
But the show's original fans aren't the only ones who have grown up—so has Phil Vischer, VeggieTales creator and creative lead on the new series. Vischer says he is leaning on spiritual maturity and lessons learned from the past to take the 18-episode series deeper.
When TBN and NBCUniversal approached Vischer to be involved with the new show, he told them he wanted to make it "like it was in the old days," with short, spiritually-focused Bible stories. (Fans' reaction to the more recent Netflix rendition of the show, VeggieTales in the House, was tepid.)
Vischer, who this week is also publishing his first children's Bible, The Laugh and Learn Bible for Kids, spoke with CT recently about what's new in the VeggieTales reboot.
Biblical truth is relevant across generations and across cultures. But will this new series address anything that is going to be specifically relevant to this generation?
We haven't explained to kids how they're part of a bigger story. The gospel has been turned so often into just tips for a better marriage, or tips to get through college without becoming an atheist. So kids are running to the Avengers, they're running to Harry Potter, they're running to Star Wars. They want to be a part of a big story, and we've lost the ability to excite them …

Source: Christianity Today Magazine
Facebook Comments