Before his death, he tweeted, "Loving Jesus doesn't always cure suicidal thoughts."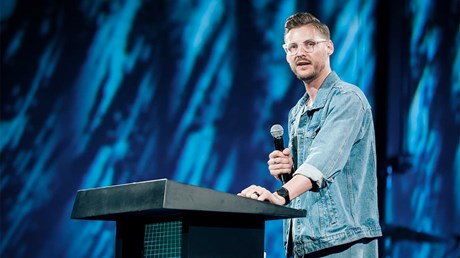 Jarrid Wilson, a California church leader, author, and mental health advocate, died by suicide Monday evening at age 30.
Wilson, known as a passionate preacher, most recently was an associate pastor at megachurch Harvest Christian Fellowship in Riverside, California. A co-founder of the mental health nonprofit Anthem of Hope, Wilson was open about his own depression, often posting on his social media accounts about his battles with the mental illness.
"At a time like this, there are just no words," said Harvest senior pastor Greg Laurie.
"Sometimes people may think that as pastors or spiritual leaders we are somehow above the pain and struggles of everyday people. We are the ones who are supposed to have all the answers. But we do not," Laurie said.
"At the end of the day, pastors are just people who need to reach out to God for his help and strength, each and every day," he added.
His wife, Julianne Wilson, posted a photo tribute of her husband on Instagram. The photo slideshow shows him fishing "in his happy place." She described her husband as "loving, giving, kind-hearted, encouraging, handsome, hilarious."
"No more pain, my jerry, no more struggle. You are made complete and you are finally free," she wrote in the caption.
"Suicide doesn't get the last word. I won't let it. You always said "Hope Gets the last word. Jesus does," she added.
News of Wilson's passing followed a series of tweets the young pastor posted throughout the day Monday that dealt with suicide, including a post encouraging followers to remember that even though loving Jesus doesn't cure illnesses such as depression, PTSD or anxiety, Jesus does …

Source: Christianity Today Magazine
Facebook Comments