"Discipleship is not a program; it's a way of life."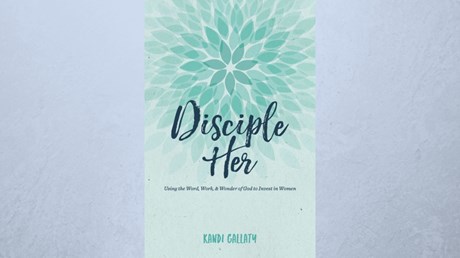 Ed: How would you define discipleship?
Kandi: Discipleship is intentionally equipping believers with the Word of God through accountable relationships empowered by the Holy Spirit in order to replicate faithful followers of Christ. It means you're coming alongside other women and spending time in the Word of God, memorizing it, journaling, holding one another accountable, and praying together.
Sharing your faith, fasting, and worship are other spiritual disciplines that you can do individually but are also highly effective when practiced in community. Discipleship is not a program; it's a way of life. It's how we maintain a healthy, balanced spiritual journey. We discipline ourselves and practice these activities to be more like [Christ].
Ed: What do you believe to be the most important spiritual discipline?
Kandi: It's the daily reading of God's Word. This is a strong statement, I know, but it is one I believe with every fiber of my being. Spending time in Scripture is of the utmost importance because our lives ebb and flow in and out of different seasons. It never stays the same for very long.
Sometimes, those seasons will be times of joy and celebration; sometimes, they will be filled with suffering and difficulty.
Nevertheless, the Word of God remains the same. In a world of flux, it is our one constant for direction, guidance, encouragement, motivation, inspiration, confrontation, conviction, and remembrance. God speaks to us through his Word as he does the work in our lives. Coming alongside others to read and discuss the Word of God is the crux of discipleship and gives us the ability to navigate life's changing terrain with the right compass.

Source: Christianity Today Magazine
Facebook Comments