A decade of analysis from Pew details what global faith leaders already know: From China to Europe, from the Middle East to the US, persecution is climbing.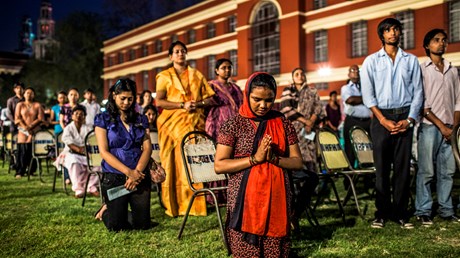 Ahead of a US State Department gathering being touted as "the biggest religious freedom event ever," a new report showcases how persecution is getting worse—especially for Christians, the most-harassed religious group in the world—and becoming more widespread.
Hostility against religious minorities spans longstanding hotspots in the Middle East and North Africa to Western contexts in Europe and the Americas, according to a comprehensive analysis released today from the Pew Research Center.
Christians endured more pushback than any other religious group each year from 2007 to 2017, when they faced harassment in 143 countries (that's one fewer than in 2016, but markedly higher than before), researchers found.
This week, Sam Brownback, the US ambassador-at-large for international religious freedom, has organized the second annual Ministerial to Advance Religious Freedom, a summit in Washington to strengthen international commitments to religious freedom.
"There is no common theology in this discussion, but it is towards a common human right," Brownback said of the event, which is expected to draw up to 1,000 religious and civil society leaders from around the world. "And that human right is that everybody is entitled to be able to practice their faith peacefully and without fear."
The recent Pew release builds on earlier reports that looked at year-over-year change and offers a decade-long picture of religious freedom's global decline—and the need for greater political action to curb the trend.
Christians remain the largest and most harassed faith community, but Muslims are not far behind, with reports of political or social oppression in 140 countries in 2017. …

Source: Christianity Today Magazine
Facebook Comments