'Vile, evil, and satanic' attacks by Fulani now outnumber Boko Haram, one of the world's deadliest terror groups.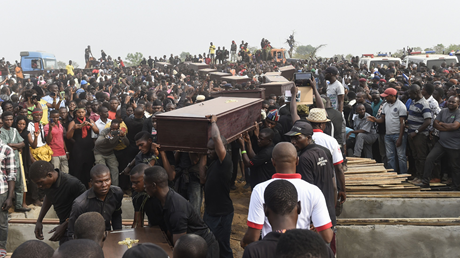 An attack on morning Mass at a Catholic church in central Nigeria yesterday left 2 priests and at least 16 parishioners dead, adding to the hundreds killed by herders in the region so far this year.
Police suspect Fulani herdsmen were responsible for the shooting rampage at Saint Ignatius Catholic Church in Mbalom, where about 30 attackers also ransacked a burial ceremony and burnt dozens of homes in the community, according to reports.
"The herdsmen burnt nearly 50 houses during the attack and sacked the entire community," said Terver Akase, a police spokesman. "We expect arrests to be made because they are becoming more brazen."
The village is located in Nigeria's Benue state, in the tense "Middle Belt" between the nation's predominantly Muslim north and predominantly Christian south.
In areas like Benue, most of the settled farmers living there are Christian. The Fulani herdsmen, mostly Muslim, are semi-nomadic and fighting for land and resources.
While Boko Haram militants have waged attacks on Christians and others in Nigeria for years, intensifying to become the deadliest terror group in the world, the clashes with the Fulani have become "more deadly than the Boko Haram jihadist insurgency that has ravaged Nigeria's northeast and is becoming a key issue in the upcoming 2019 presidential polls," The Guardian reported.
"Violating a place of worship, killing priests and worshippers is not only vile, evil, and satanic," said Muhammadu Buhari, Nigeria's current president and a Muslim (the nation alternates between Muslim and Christian heads of state), "it is clearly calculated to stoke up religious conflict and plunge our communities into …

Source: Christianity Today Magazine