During Israel trips, many Christian pilgrims repeat the rite.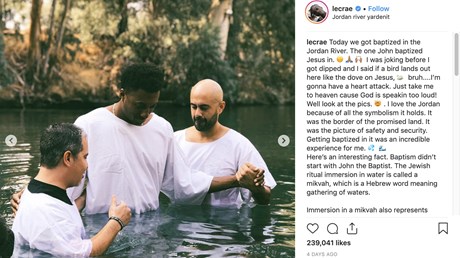 Like thousands of Christians who visit the Holy Land, Lecrae donned a white robe to be baptized in the Jordan River last week. The popular Christian rapper posted a video showing him being immersed in the waters where Jesus was said to be baptized. As he came up out of the water, Lecrae let out a loud "whoo!"
Fans on social media mostly celebrated his experiences at Israel's pilgrimage sites, but some questioned why Lecrae—an outspoken believer who has been making Christian music for over 15 years—would opt to participate in baptism if he had already been baptized. Lecrae wrote in his memoir that his grandmother had him baptized as a kid, and he came to faith on his own in college around 20 years ago.
The Grammy winner responded to one follower who suggested that since Lecrae already has new life in Christ, the Jordan baptism was just a "weird bath in a very significant place."
"1. It's Mikvah," Lecrae replied, referencing the Jewish ritual bath that predates Christian baptism and also represented new life. "2. Jesus was God already and still was baptized. 3. Celebrate the heart vs. criticizing the information."
Protestant Christians make up half of the 2.6 million religious tourists who come to Israel each year, and many wish to commemorate the sense of spiritual revival that comes from seeing scriptural sites in person.
It is not uncommon for those who have already been baptized to want to do it again in the Jordan River, even if they hold to a theological position that only one baptism is necessary in the life of a Christian.
"When these Christians tour the land of Israel, they are being exposed to the historical reality of the biblical Scriptures. …

Source: Christianity Today Magazine
Facebook Comments