Myungsung, the world's largest Presbyterian church, awaits denominational court ruling on pastoral succession.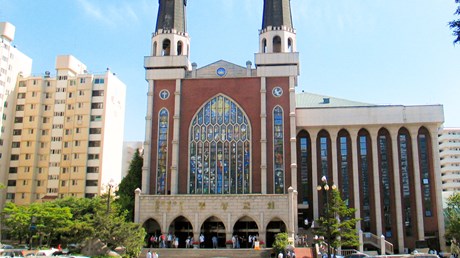 "You've heard that our church is very big. Very large," said the pastor emeritus of the world's largest Presbyterian church at the 2018 commencement of Gordon-Conwell Theological Seminary. "I and my colleagues at our church worked together and practiced exactly what American missionaries taught us," continued Kim Sam-whan, who in 1980 founded Myungsung Presbyterian Church in Korea with 20 members.
Today, Myungsung claims more than 100,000 members, and its footprint extend beyond its main Seoul sanctuary with its two towering spires. The church owns and operates an evangelical television channel, two schools, the first and only private prison in Korea, and hospitals in Korea and Ethiopia.
However, the megachurch and its denomination have been fractured after the 74-year-old Kim gave his senior pastor position to his 46-year-old son in 2017.
Next week, the court of the Presbyterian Church of Korea (PCK-TongHap), one of the largest of Korea's more than 100 Presbyterian denominations, is scheduled to announce its decision July 16 on whether the accession of Kim's son, Kim Ha-na, is valid.
The crux of the debate is Article 28.6 of the PCK-TongHap constitution, which prohibits the transference of pastor or elder positions to family members. Defenders argue that Kim Ha-na was elected in accordance with Myungsung's laws, and the denomination that Kim Sam-whan once headed should not meddle in the megachurch's affairs. Critics argue that the denomination's flagship church is flouting the corporate laws it must heed.
"Hereditary succession is a major issue in Korea because the world's first major wave of megachurches was birthed in Korea," said Warren Bird, …

Source: Christianity Today Magazine
Facebook Comments