More than 1 million ask government to ban apocalyptic Christian sect linked to half of infections.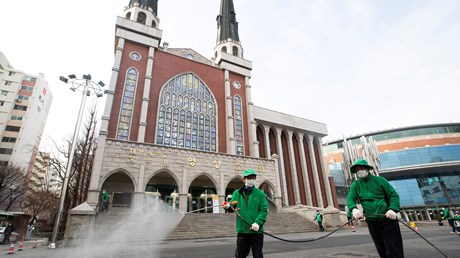 Although March 1 usually marks one of the most joyous services in South Korea, in celebration of Independence Movement Day, an unprecedented number of churches will be closed this Sunday in response to an escalating coronavirus outbreak now second in scale only to China.
"This is the first time that churches are officially postponing services in the 100 years of Protestant history and 200 years of Catholic history [in Korea]," said Won Jae-chun, a professor at Christian Handong Global University in Pohang. "Services and masses have not stopped—even during the Korean War."
The world's largest church, Seoul's Pentecostal Yoido Full Gospel, announced it will broadcast its services behind closed doors to its half a million members. Other megachurches in Seoul with over 50,000 members that are broadcasting services include Sarang, Onnuri, and Myungsung, where one associate pastor has a confirmed case of coronavirus.
Although the Korean government and many denominations have discouraged public worship, as even military drills and political protests—common facets of life in Korea—have been canceled, the decision whether to hold public worship has been left up to each church.
COVID-19 has infected more than 2,300 and caused 13 deaths in Korea since the first reported case on January 20. Worldwide, almost 84,000 cases and 3,000 deaths have been confirmed across dozens of countries, with the vast majority in China's Hubei province where the disease originated.
This week, the US State Department issued a warning against non-essential travel to Korea. "Americans [in Korea] that I know are mostly trying to not panic," said Kurt Esslinger, an American Presbyterian Mission …

Source: Christianity Today Magazine
Facebook Comments