Denomination delays verdict on how Myungsung, the world's largest Presbyterian church, passed its pulpit from father to son.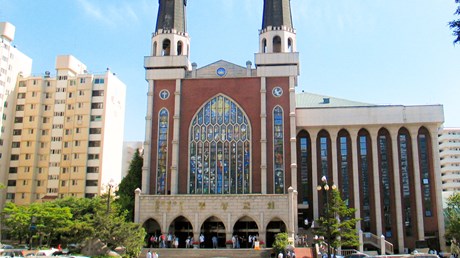 The two-year saga embroiling the world's largest Presbyterian church remained unresolved Tuesday, despite a scheduled ruling from the denomination's court.
The court of the Presbyterian Church of Korea (PCK-Tonghap) failed to determine the legitimacy of the 2017 accession of Kim Ha-na as senior pastor of Myungsung Presbyterian Church, a 100,000-member congregation in Seoul founded by Kim's father, Kim Sam-whan.
The 15-member court began with a morning service at the Korean Church Centennial Memorial Building in Seoul. PCK-Tonghap is the second-largest of more than 100 Korean Presbyterian denominations, with more than 2 million members and almost 20,000 pastors.
Although the decision was due by 6 p.m., and dozens of journalists and activists waited outside the meeting room, no ruling was released until 8:30 p.m.
About 7:30 p.m., two members of the court left the room, one saying, "There's nothing to expect. We tried to make things right." When the two doors to the meeting room opened an hour later, an emotional jostling between activists and court members ensued as students and church reformers poured into the meeting room, followed by journalists.
The PCK court head, Kang Heung-guk, declared a decision had been deferred to August 5, and apologized for failing to deliver on last month's promise to announce a ruling on Myungsung on July 16. The court's chief umpire, Oh Yang-hyun, added that the court is aware of the severity of the Myungsung case, and compared the gravitas of the current deliberations to the PCK court's 1938 decision to condone Shinto worship during the Japanese colonization of Korea.
Dozens of students and activists had waited for more than 10 hours since the …

Source: Christianity Today Magazine