For more than a decade, Let it Be Christmas has celebrated the Gospel "according to Matthew, Mark, Luke, John, Paul, George, and Ringo."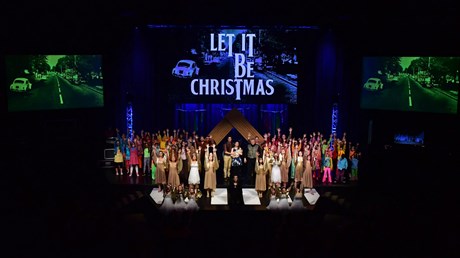 Naperville, Illinois (RNS)—Community Christian Church's annual Christmas pageant includes all the classics.
There's "O Little Town of Bethlehem" and "Away in a Manger."
And everyone's favorite sing-a-long: "I Want to Hold Your Hand."
The church's annual "Let It Be Christmas: The Gospel according to Matthew, Mark, Luke, John, Paul, George, and Ringo" sets the story of Jesus' birth, which Christians celebrate at Christmas, to the music of the Beatles.
It mixes Scripture, songs, and dance into what Community calls a "magical mystery tour through the Gospels to tell the greatest story of all time, with the greatest music of all time!"
And it's Anna Bramlett's "favorite annual tradition."
Bramlett, a 15-year-old sophomore at Naperville North High School, plays Mary in this year's production. It's her 10th appearance in the show, now going on 12 years at the nondenominational church, which has 10 locations in the Chicago suburbs.
The show is a family affair for Bramlett. Her father and uncle wrote the show and appear as prophets and wise men in colorful, psychedelic Sgt. Pepper's Lonely Hearts Club Band uniforms. Her mom casts the show each year. And her cousins and older siblings also have appeared in it.
The production by the church's Epic Theatre Company also features about 85 performers from across the Chicago area and sells out shows throughout the month of December. This year, there are nine shows running through December 21 at the Naperville church.
"It's definitely a whole different arena than what I think a lot of families think of as spending time together," Bramlett …

Source: Christianity Today Magazine