This Thanksgiving, praise God for other people's blessings—even the ones you wish for.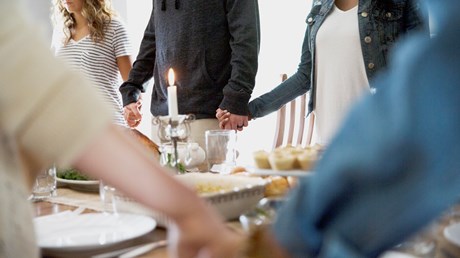 One Wednesday night some years ago, I sat in a church prayer meeting next to Mandy, a single mom and dear friend. A few years earlier, Mandy's husband had fallen into serious sin and left her to raise three young children on her own. But Mandy's prayers that night were not for a change in her own difficult circumstances—though I'm sure she often cried out to God for that at other times. No, Mandy's prayers were prayers of thanksgiving and rejoicing with others.
Of all the things on the prayer list that evening, Mandy chose to pray for the newly engaged couples in our church. She thanked God for their lives and their love, and she asked him to bless their upcoming marriages with happiness and faithfulness. She praised him for his kindness to these fresh-faced and starry-eyed young people and publicly shared in their joy. In essence, she gave thanks to God for everything that she did not have.
I have never forgotten that moment.
As Thanksgiving approaches, many of us will find ourselves in church gatherings or at family dinner tables where we have opportunities to give public thanks. Naturally, our thoughts might turn immediately to an inventory of our year. The blessings that are first on our lips and hearts will most likely be those we've experienced firsthand: steady work, warm house, loving family. But what if, rather than dwelling on our own circumstances, we choose instead to enter into someone else's joy?
Scripture gives us a model for this practice.
The people of God are called to enter into the blessings of others and delight in God's goodness wherever (and to whomever) it appears. "Rejoice with those who rejoice" (Rom. 12:15) is our Lord's gracious invitation …

Source: Christianity Today Magazine
Facebook Comments