What does it mean to teach our children about lament, fasting, and mortality? These books, apps, and flashcards can help.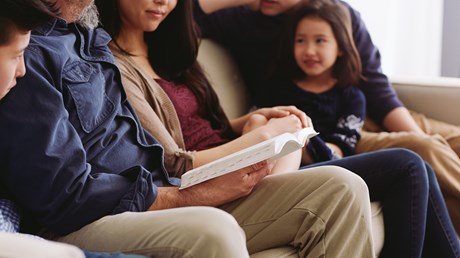 It's one thing to observe Lent solo. It's another thing to try to practice Lent with a family, especially if your family includes fussy babies, grumpy middle schoolers, or fantastically busy teenagers. For some parents, every day feels like Lent. You're often laying down your life or giving up things that you love. When Ash Wednesday comes around, what can you give up when you already feel utterly spent?
My wife and I have felt all these things in some fashion with our two children and have been deeply grateful to discover resources that others have created in order to practically help families who wish to follow Jesus on this 40-day pilgrimage. The following five resources, which include books, downloadable apps, and creative devotionals, will offer families a starting point to practice Lent together.
Written for elementary and middle school-aged children, this playful guide aims to help kids understand why they should care about a terribly big word that adults frequently take awfully seriously: Lent. Without talking down to them, Celano, an editor at Paraclete Press, offers children a chance to learn about such things as "What Lent Is," "What Lent Definitely Is Not," "40 Days of Survival Tactics," and "A Few Prayers and Practices—Only for Kids."
As Celano explains in this book, Lent is not about "giving up" silly things or about making sad faces to show how difficult life has suddenly become. It's about learning to love God and to know who Jesus is and what it means to follow him—even as a kid! With Scriptures to memorize and …

Source: Christianity Today Magazine
Facebook Comments