Prosecutors say Kingdom of Jesus Christ's "miracle workers" were trafficking victims. Philippines-based church says fundraising efforts for Children's Joy Foundation were legitimate.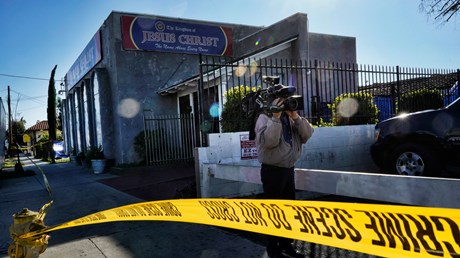 MANILA, Philippines (AP) — A Philippine religious group on Thursday denied allegations by American law enforcement agents that it was involved in a scheme to trick followers into becoming fundraisers and arrange sham marriages to keep them in the US.
FBI agents raided the Kingdom of Jesus Christ church in Los Angeles on Wednesday in a human trafficking investigation that led to the arrests of three church leaders.
A spokesman for Apollo Quiboloy, the church founder and leader, said former members who had been disciplined for wrongdoing retaliated by breaking off from his church and fabricating information they fed to the FBI in a "grand conspiracy of lies."
"Their aim, therefore, is to exact revenge, extortion commingled with a brazen but shameless desire to put [Quiboloy] and the [church] as a whole into a quagmire of shame, blatant humiliation, and defeat through trumped-up charges," lawyer Israelito Torreon said in a statement issued to reporters in southern Philippines' Davao city.
The church leader ordered an internal audit last year that prompted a trusted officer and other members to leave the group and struck an alliance with "forces" jealous of Quiboloy's rise, Torreon said without elaborating.
"We will face and disprove as utter lies the charges filed against the administrators" of the church in the US, he said.
Workers who managed to escape from the church told the FBI they had been sent across the US soliciting donations for the church's charity and were beaten and psychologically abused if they didn't make quotas, according to an affidavit filed in support of the charges.
The immigrants essentially became full-time workers, sometimes referred …

Source: Christianity Today Magazine