Our Heavenly Father is immersed in the mess and muck of life. How often do we notice?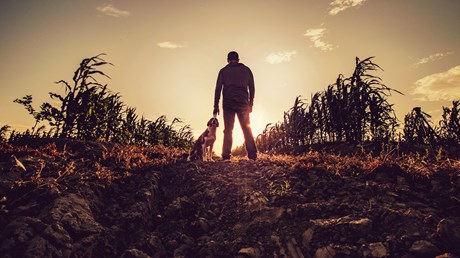 All Shall Be Well, the latest offering from Catherine McNiel, is a very dirty book. Before you question the four stars above this review or cover your child's eyes, let me rephrase my claim: All Shall Be Well is a dusty, dirty, soil-splattered work that is both lovely and wise. It is a book I wish I'd had as a young woman, am grateful to receive in my middle years, and will turn to again with new urgency if I am given the privilege of growing old.
The cover image resembles the floor of my garden shed or that one particular desk drawer where my sons stash their treasure horde of sticks and stones and snakeskins. There are a few pretty flower petals along the edges, but I suspect the flowers were placed less prominently than the spiky seedheads and iridescent insects because pretty, floral book covers are so readily associated with a female readership. McNiel's first award-winning book Long Days of Small Things focused on motherhood, but make no mistake—this new book is for everyone.
Sleepwalking Through Life
Like her first, this is a book about small things—ordinary things tiny as a seed or a robin's egg—but long before I turned the last page I had become convinced that McNiel's subject was nothing less ambitious than every single thing that matters most in life. As McNiel gently but persuasively argues, the natural world doesn't only offer up metaphors for our spiritual lives. It is the very real stuff—quite literally the earth—of which we are made. The life cycle of something as small and ordinary as a bean seedling sown by a schoolchild in a paper cup can teach us more than a shelf brimming with theology books, but this fact is only ancillary to McNiel's …

Source: Christianity Today Magazine
Facebook Comments