Former CEO spent decades building up company's offerings of Bibles and bestsellers.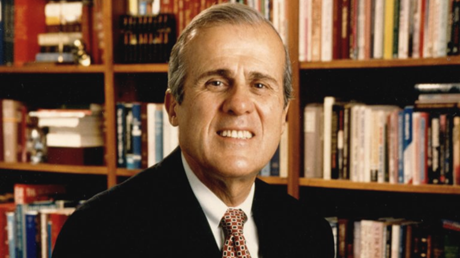 Longtime Thomas Nelson Publishers CEO Sam Moore, who went from selling Bibles door-to-door to running one of the biggest Bible businesses in the world, died Friday at age 88.
Moore led Thomas Nelson—now a division of HarperCollins Christian Publishing—for 47 years, expanding it to become the top publisher of Bibles and Christian books.
From when he bought the company in 1969 to his retirement over a decade ago, Thomas Nelson and its imprints published more than 300 million Bibles as well as popular titles by Christian leaders such as Jerry Falwell, Billy Graham, Max Lucado, and Charles Stanley.
"Sam was a unique man who embraced God's plan for his life every day with courage and enthusiasm," said Mark Schoenwald, president and CEO of HarperCollins Christian Publishing. "He dedicated his life's work to preach and teach the good news of the gospel. Sam impacted and changed the lives of countless people with his time, effort, and resources."
As one profile described him, Moore viewed the Bible both as a believer and as a businessman. He prompted Thomas Nelson's multimillion-dollar launch of the New King James Version (NKJV) of the Bible in 1983, inspired by his young son's confusion over the traditional KJV text.
By the mid-'80s, Thomas Nelson had grown its profits by more than a quarter a year for over a decade, moving Moore's company from 10th in religious publishing to the top spot. As CEO, he had an ambitious vision for what the company could offer Christian customers.
"My dream is to package that product in as many beautiful covers, to put as much helps, illustrations, and the most beautiful typeface, so you can take this book and love it and read it …

Source: Christianity Today Magazine
Facebook Comments