The "radical" pastor prayed for the president during an unannounced stop at his suburban DC megachurch.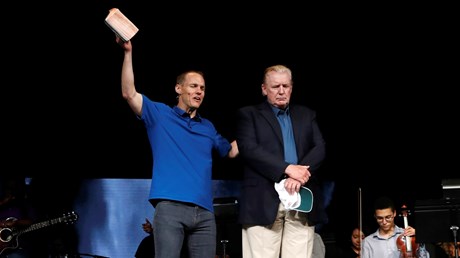 David Platt did not publicly sign on to Franklin Graham's day of prayer for President Donald Trump. He is not a member of his White House faith advisors, he did not endorse him, and he is not known for weighing in on day-to-day political happenings.
But yesterday, when the president visited McLean Bible Church, the DC-area megachurch where Platt has served as teaching pastor for the past two years, the Southern Baptist preacher prayed for him from the stage.
Platt cited 1 Timothy 2—the passage Franklin Graham used in his call for churches to pray for the president that day—as he put his arm around Trump and offered a two-and-half minute prayer.
"We pray that he would look to you; that he would trust in you; that he would lean on you; that he would govern and make decisions in ways that are good for justice, good for righteousness, good for equity, every good path," the former International Mission Board president and Radical author said. "Lord, we pray that you would give him all the grace he needs to govern in ways that we just saw in 1 Timothy 2 that lead to peaceful and quiet lives, godly and dignified in every way."
Platt asked that Trump would be granted grace, mercy, and wisdom; that he would know God's love and that Christ died for his sins; that his family would be blessed; and that other leaders in the government would likewise be guided by God's wisdom.
The president's visit had not been publicly announced prior to attending the service in the Tysons area of Northern Virginia, one of a dozen Sunday services McLean Bible Church holds across its six locations. At the afternoon gathering in its largest and flagship location, Trump came in khakis, a blue blazer, …

Source: Christianity Today Magazine
Facebook Comments