The pandemic left families stranded, plans delayed, and some adoptions called off entirely, following a year of historic lows and increased government regulations.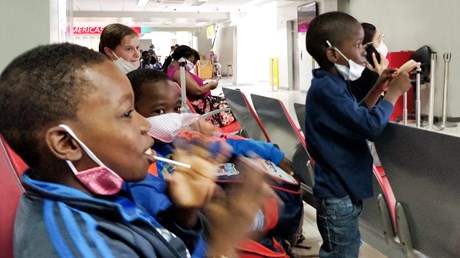 The last leg of Babydson and Jamesky's journey to their new family in America was the long hallway at the Fort Lauderdale airport. The skinny-legged brothers, aged 8 and 7, were lugging big backpacks they'd packed at their orphanage in Haiti. They ambled timidly down the hallway until they were scooped up into Beau and Kari Cox's hugs.
The Kansas couple—who felt called to adopt following a medical missions trip to Port-au-Prince—had been in the process for nearly three years before Babydson and Jamesky arrived on May 14. The coronavirus pandemic halted the process for them – along with hundreds of American families – at a time when international adoptions had already fallen to historic lows.
Even before the virus, adoption in Haiti was notoriously obstacle-ridden, delayed by political unrest, government corruption, incompetence, and lack of technology. Things got worse last year, sending the country in lockdown over violent protests and leading the US to advise against travel there.
"When the pandemic hit, we thought, 'Can we even get them on a flight and get them out?'" Kari Cox said.
US embassies around the globe had either closed outright or continued operations with skeleton crews, and the Haitian government grounded nearly to a halt. To get the boys home now, the Coxes had to hope for a series of small miracles. A sign-off from Haiti. A passport and a visa from the US. A willing and dependable escort. A flight out.
Somehow it all lined up. The Haitian government signed the last piece of paper, after weeks of promising they'd "do it soon." An administrator at the boys' orphanage found an American missionary teacher outside Port Au Prince who was …

Source: Christianity Today Magazine