Shut down after Sunday services, influential congregation had refused orders to install government surveillance cameras.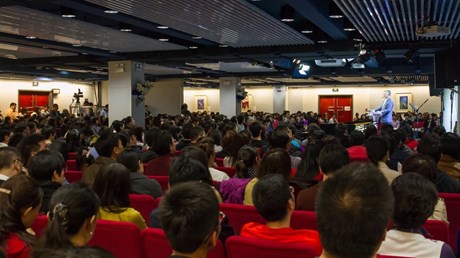 Beijing authorities threatened to close Zion Church last month after the 1,500-member congregation, one of the Chinese capital's largest house churches, refused to install surveillance cameras in its sanctuary.
After services on Sunday, officials delivered on their threat to the unofficial Protestant congregation, which meets in a renovated hall in northern Beijing. Zion is now banned and its materials confiscated, reports Reuters.
"On Sunday, the Beijing Chaoyang district civil affairs bureau said that by organizing events without registering, the church was breaking rules forbidding mass gatherings and were now 'legally banned' and its 'illegal promotional material' had been confiscated," reported the news agency, citing images of the notice and confirmation by churchgoers.
"I fear that there is no way for us to resolve this issue with the authorities," Zion's pastor, Jin "Ezra" Mingri, told Reuters.
ChinaAid reports that Zion, the biggest house church in Beijing, "has decided it will not be swayed by the ban and instead hold services outdoors." The strategy echoes how another noteworthy Beijing house church, Shouwang, responded to similar problems in 2011.
"Churches will continue to develop. Blocking the sites will only intensify conflicts," Jin told the Associated Press. (Agence France-Presse also reports on the closure.)
Zion had received a letter from city authorities in April, asking the church to install 24 closed-circuit video cameras in the building for "security reasons," Reuters previously reported. "The church decided this was not appropriate," Jin told the agency. "… Our services are …

Source: Christianity Today Magazine
Facebook Comments