German Christians debate whether conservative state's new law honors or hijacks the core symbol of their faith.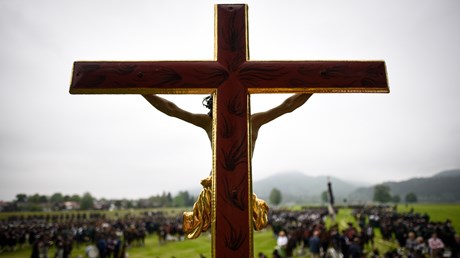 "A clearly visible cross must be placed in the entrance area of every service building to serve as a reminder of the historical and cultural influence of Bavaria."
So reads a controversial new law introduced in Germany's second-most populous state.
Markus Söder, premier of Germany's Christian Social Union party (CSU), was the driving force behind the new law, which went into effect on June 1 and has caused a schism between church and state leaders.
Söder called the ruling an "affirmation of our cultural and historical, as well as spiritual values." He acknowledged the cross is "primarily a religious symbol," but also said it is foundational to the secular German state.
The law is viewed by many as an effort to lock down conservative voters in the run-up to state elections this October. The CSU currently dominates the state's legislature, but some of its core constituency has been lured toward the anti-immigration Alternative für Deutschland party (AfD) in light of more than 1 million refugees—most of them Muslims from the Middle East and North Africa—who have flooded into Germany over the last few years.
The decision, which was accepted in April and has now been implemented, is a key component in an attempt to bring voters back.
In Bavaria, where more than half of the population is Catholic and 1 in 5 are Protestants (while 4% are Muslim), the move to promulgate crosses in public spaces is popular. More than 56 percent of residents favor the decision, though only 29 percent of Germans nationwide do likewise, according to a poll for the Bild am Sonntag, Germany's largest Sunday newspaper, and cited in the Independent.
Some of the greatest opposition …

Source: Christianity Today Magazine
Facebook Comments