Victorious lawyer's next case, the plight of Shagufta Mausar, shows how Bibi's long-delayed reunion with family in Canada doesn't end the widespread problem facing Pakistan's Christians.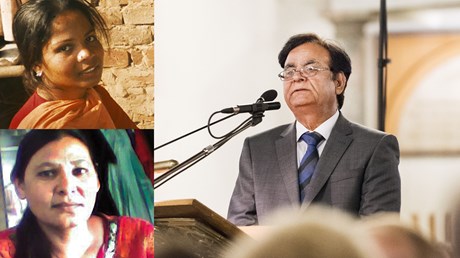 Now that Asia Bibi has finally left Pakistan and been reunited with her family in Canada, her prison cell has a new resident: yet another Christian woman condemned to death over blasphemy charges.
Bibi's lawyer, Saif-ul Malook, told CT he will now take up the case of Shagufta Kausar, a 45-year-old mother of four, and her husband.
Christians are Pakistan's largest religious minority after Hindus, comprising about 1.6 percent of the Muslim nation's population of 210 million. However, the highest number of blasphemy charges are filed against Christians because of their poor status, their origins in the downtrodden "untouchable" caste, and their association with the West. [CT's Quick to Listen podcast explains more.]
Bibi was accused in June 2009 of speaking blasphemous words against Muhammad, a crime punishable with death in Pakistan, and was convicted in November 2010. The Supreme Court of Pakistan finally acquitted Bibi in October 2018 over "contradictions and inconsistent statements of the witnesses."
Now Kausar is locked in the same prison cell in Multan Women Jail where Bibi has been incarcerated for many years. Kausar and her husband Shafqat Masih, 48, were condemned to death by a trial court in February 2014. The Christian couple hails from the infamous town of Gojra, where in 2009 more than 100 houses were set on fire and 7 Christians killed by a violent mob over blasphemy allegations. Since then, tensions between Christians and Muslims have regularly flared.
Masih is bedridden because of a spinal injury from 2004. Their four children, ages 5 to 13, were dependent on Kausar, who worked as a domestic helper in the house of Gojra bishop John Samuel until Muhammad Hussein, a prayer …

Source: Christianity Today Magazine
Facebook Comments