God is always speaking to us every moment of our lives. It is not that he isn't speaking; we just may not be listening.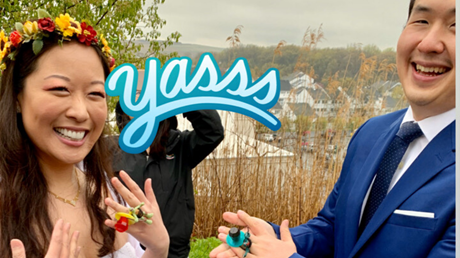 On New Year's eve Andrew and Starbeth were dreaming of a beautiful outdoor May wedding overlooking the Hudson River. They asked me to officiate at their ceremony at sundown so they and their guests would see the sun gradually descending toward the water at the beginning of the procession. "I hope it doesn't rain," I replied with a grin, and Andrew laughed nervously.
In hindsight, it is ironic to think that a little spring rain was the worst we feared when a global pandemic was looming. Little did we know that New York City would soon become the epicenter of the novel Covid-19 outbreak; that hospital tents would be pitched across Central Park; and that a naval fleet would tie up in New York Harbor to replenish the city's dwindling resources a month before the wedding.
Starbeth's dream wedding quickly turned from a cute, quirky musical in La Land to a dystopian apocalypse in Zombieland.
Simone Weil, the late French philosopher, once wrote, "There are only two things that can pierce the human heart. The one is beauty. The other is affliction." In the modern age most of us seek to avoid the latter at all costs and hope only for the former.
Yet perhaps there is a certain poignant beauty found in affliction also, something we are missing, and that only an event as radical as a pandemic can teach us. As a minister serving in New York City in these unprecedented times, this is precisely what I am witnessing.
As the city shuttered and social distancing protocols were put into place, we knew a wedding cancellation was inevitable. We discussed alternatives, but rescheduling proved difficult because Starbeth was an essential healthcare worker serving on the frontline at the height of the outbreak. …

Source: Christianity Today Magazine