How congregations in the former Soviet Union are responding to the coronavirus challenge can help the global church think better about buildings, young professionals, and persecution.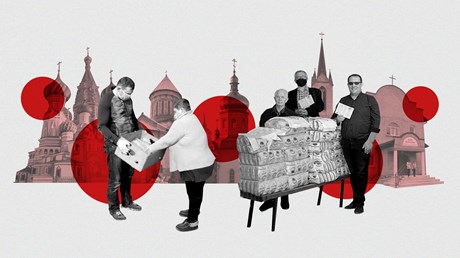 For many Western Christians, Eurasia is uncharted territory, and no less so amid this pandemic. In the midst of troubling COVID-19 tallies from the US and Europe, little is heard about what is happening in this strategically important region, situated with Europe to its west, China to its southeast, and the Muslim world to its south.
Yet the way local evangelical churches are responding to coronavirus challenges speaks volumes about their way of life and ministry, as well as their future missions potential.
National church leaders testify that the situation in Russia—with more than 640,000 confirmed cases, the third-worst reported outbreak in the world after the US and Brazil—and other Eurasian nations is alarming. Health systems, economies, transportation, and security systems are on the verge of collapse. Mass testing for COVID-19 is not happening. Governments deny access to reliable information. And all the while the war in Ukraine continues, and restrictions on religious freedom and human rights increase in Russia, Belarus, and Central Asia.
The former Soviet Union is a gray zone where hybrid systems have emerged which imitate the developed world while using talk of democracy, free markets, rule of law, independent media, freedom, and human rights to mask their absence. Given these circumstances, evangelical churches are under constant pressure both from government authorities and wider society, which are dominated by either aggressive Orthodoxy, Islamism, or a secular Soviet mindset.
However, the challenge of the pandemic has lit a spark which casts light on the little-noticed but active and essential role of evangelical churches in this gray zone. Based on my extensive conversations with local leaders, here …

Source: Christianity Today Magazine