Amid the "great divorce" from Europe, British believers have opportunities to model a better blend of faith and politics—with each other and the global body of Christ.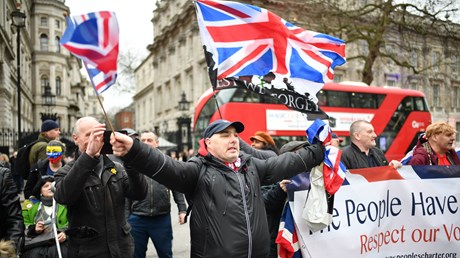 Today the UK moves to the point of no return with Brexit.
There will be no marches on the streets to stop it, and no more votes in the Houses of Parliament to delay it. The UK remains a divided kingdom on this issue; however, after the landslide victory of the Conservatives in the general election, there's been a stoic inevitability that has perhaps dampened the zeal of both Leavers and Remainers.
To mark—not celebrate—the occasion, a commemorative 50-pence coin has been minted, with this inscription: "Peace, prosperity and friendship with all nations." A bold hope for the UK's new relationship with the world? Or salt in the wounds for the 48 percent who voted to remain in the European Union?
What does Brexit mean for the church? Considering only 1 in 10 UK Christians told pollsters last month that they have prayed about Brexit, does it make any difference at all? Or does it signal a fracture for many of us between our spiritual lives and our political lives?
I believe Brexit offers us three unique opportunities to reintegrate our faith and politics:
1) An opportunity to model a unity that transcends political diversity
Too often Christians struggle to find a unity in Christ first and in culture and political ideology second. We too easily join in with the polarization of our culture, and our churches end up divided along ethnic, class, and political lines indistinguishable from those of our neighbors. We were called to something higher. We follow the Jesus who welcomed both Levi the tax collector and Simon the Zealot into his family of disciples. These men represented diametrically opposed political visions: One sought to collaborate with the Roman Empire, while the other sought to overthrow …

Source: Christianity Today Magazine